We've had a lazy, but productive Saturday. We slept in, ate breakfast at Wa-Ho, got some more supplies for the house, and have been working on various projects since then. Mike's projects have included caulking everything inside that still needs to be caulked [bless him!], finishing the trim on the doors in the kitchen [hallelujah!], and helping me raise the guest bed / rearrange the furniture in there. While he was hard at work I added some dirt to the plants in the window boxes, rearranged the furniture in the guest room, took a short nap, and baked a lot of stuff. (: I've missed these kind of Saturdays - no running around, just hangin' out getting stuff done!
I baked the Banana Oatmeal Cups with Chocolate Chips because I had some bananas in the fridge that were going bad...like they were already pretty black. AND, I actually had everything in the pantry / fridge that the recipe called for (:
Banana Oatmeal Cups with Chocolate Chips
Ingredients:
2 mashed bananas (the riper, the better!)
4 oz natural, unsweetened applesauce
1 cup milk
2 eggs
1 tbsp Baking Powder
3 cups Old Fashioned or Rolled Oats
1 tsp vanilla extract
3 tbsp mini chocolate chips

*I didn't have mini chocolate chips, so I used a little more than 1/4 cup of regular chocolate chips
Directions:
In a medium mixing bowl, mash the bananas and add applesauce. Mix the rest of the ingredients into this bowl except for the chocolate chips. Let sit while you prepare the muffin pans.
Spray a muffin pan or add liners to muffin tin.
Stir the chocolate chips into the oatmeal batter.
Divide batter into 15 muffin cups. They should be just about filled.
Bake 20-30 minutes, you'll see the edges just starting to brown and they'll be firm to the touch.
*The muffins may stick when hot, but are easily removed when cooled for a bit.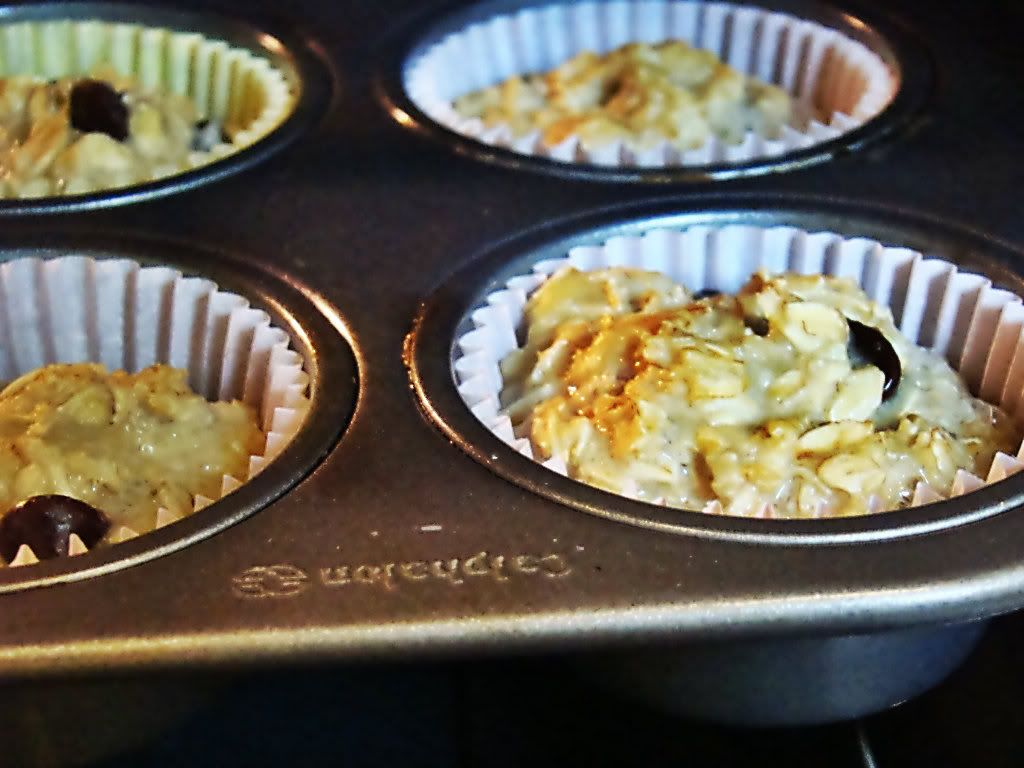 While I had out the ingredients I
just mentioned
the famous
Cowboy Cookies
and Mike immediately got googlie-eyed and asked for some. So, I also made Cowboy cookies,
just for him
. I tweaked the recipe a little though and skipped the nuts [because we were out] and added shredded, unsweetened coconut. YUM! At some point I want to try them with peanut butter! (: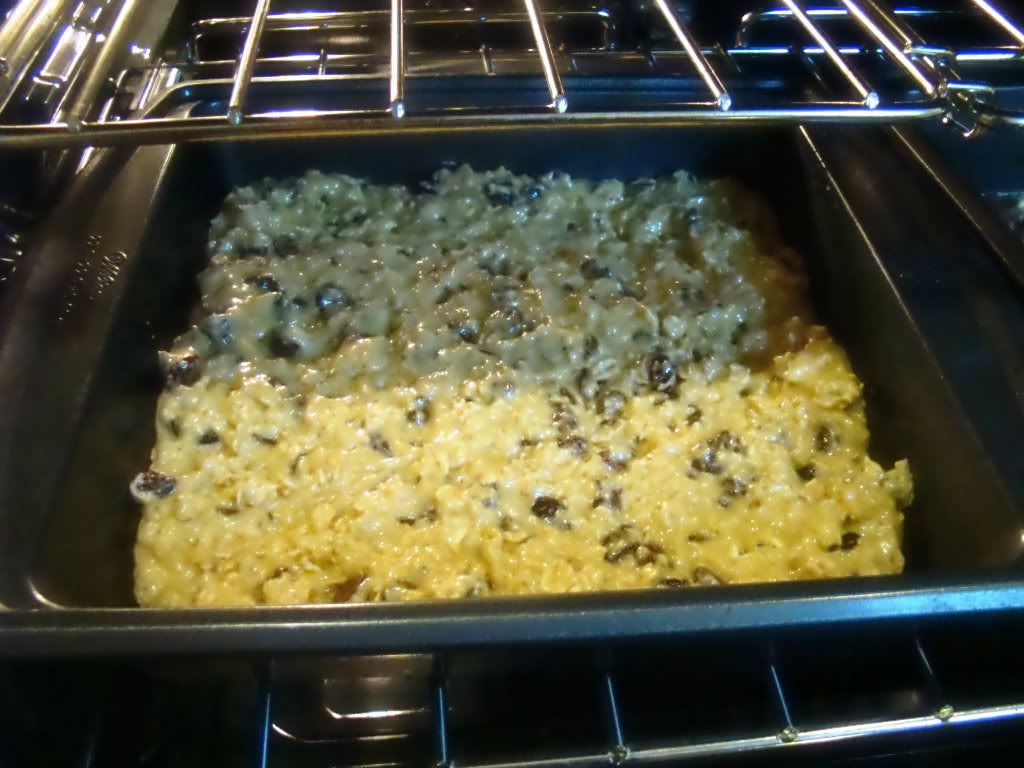 *I also have never made them in a sheet. It only added a few minutes to the bake time and will be just as easy to serve and enjoy!