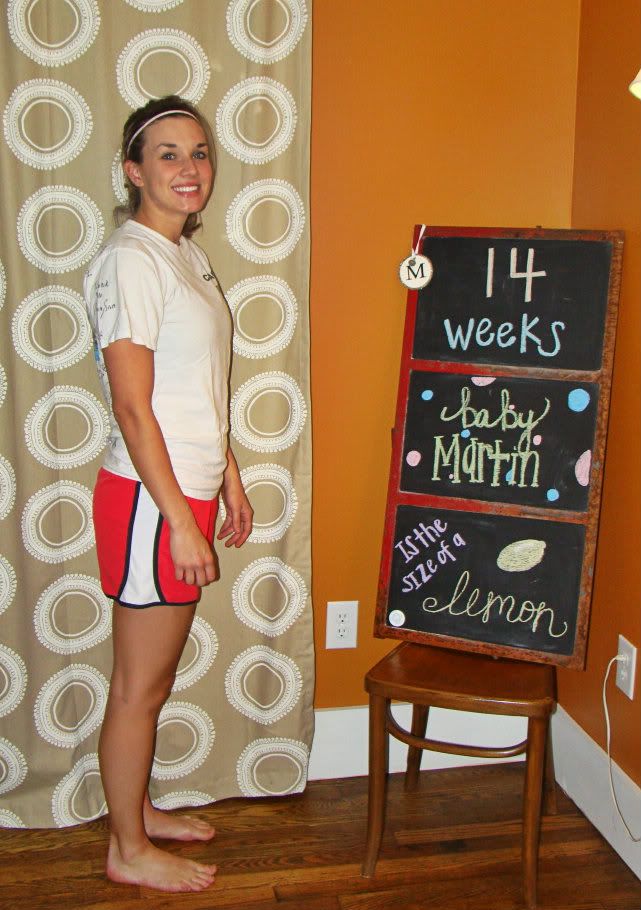 How far along?
14 weeks 4 days
Total weight gain/loss:
+4 pounds [@ last appt]
Maternity clothes?
Not yet, but my pants are definitely getting tighter ...
Stretch marks?
No
Sleep:
Sleeping great [praise the Lord]
Best moment this week:
Getting my very first Mother's Day cards!
Have you told family and friends:
Yes!
Miss Anything?
running [and a margarita would be nice!]
Movement:
Not yet
Food cravings: nothing new
Anything making you queasy or sick: still dairy products and i have insane heartburn / reflux after i eat anything
Have you started to show yet: there's a little bump
Gender prediction: Mike's still confident it's a boy, so I'm still confident it's a girl
Labor Signs:
No
Belly Button in or out? In
Wedding rings on or off?
On
Happy or Moody most of the time:
Happy (:
Weekly Wisdom: keep track of what makes you feel bad eating-wise. i have a running "can't-eat-that-for-another-six-months" list of things that don't make me feel great. and trust me, i won't eat them for another six months...it's not worth it!
Looking forward to:
still waiting to feel the baby move
In other news, our sweet friends Ally & Landon from our community group just found out that their twins are both GIRLS! This means that in the year we'll have been together as a group we'll have added 6 little girls + whatever baby Martin is! If it's the only boy in the group he'll have lots of cuties to pick from and if it's a girl she's going to have one sweet group of girl friends! It's a little crazy to me that we could potentially have added 100% girls to our group this year [although, Mike says "Statistically speaking, it won't happen." We'll see!]